The Im·age·sphere - (noun) an era in which visual communication supersedes the written word. Bob Lisbonne, CEO of advertising company Luminate, penned this term late 2012 as we entered a time when photos were quickly becoming your average Joe's favorite way of storytelling.
Justin Goldsborough, Consultant at Reishman Hillard says in his blog, "society responds more to visual stimuli and storytelling than any story we read in a magazine or on a website. Customers are now saying, 'Don't just tell me. Show me!"
Now, what does that mean for those of us in the interactive digital signage industry? People love pictures. Our audience is drawn to interacting with images now more than ever. So, if you haven't begun already, it is time to begin crafting your interactive image strategy. Use touch screen software to create a gallery of compelling photos for your audience to swipe through: think about interesting shots of your products, images of your day-to-day operations, a photo tour of your location . . . the possibilities are endless as long as you have a camera, a touch display and some type of interactive gallery software.
Think your industry is too boring for photos? Good point.
You know what's really interesting? A multinational conglomerate corporation that operates through four segments: energy, technology infrastructure, capital finance, and consumer and industrial.
(Thank you for that compelling description, Wikipedia. . . *snore)
That is General Electric, a company that does everything, which includes a lot of "boring" things. Take a look at how they took everything, and made it into something worth noticing: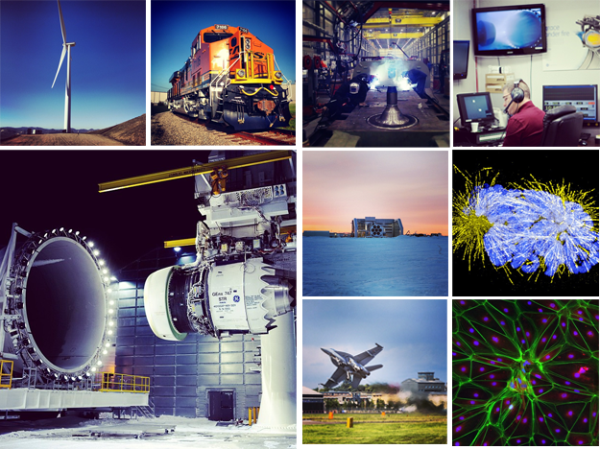 These photos were taken from General Electric's Tumblr account. Even though you may not know exactly what is going on in any of these photos, they certainly hold your interest don't they? That may be the sole purpose of your interactive image strategy. To delight your audience just enough to make them say "wow."
If you need a bit more photography guidance, here are 3 tips to help your photos tell a story.
Horizon Display has used touch screen software to created interactive image galleries for companies ranging from an oceanic non-profit to a multinational computer corporation. Despite their organizational differences, they all understand we have entered an era of technology that encourages your audience to interact with images in entirely new ways.
Jessica Webster, Marketing Specialist for Horizon Display. Jessica likes to destroy create things. She specializes in creative design, copywriting, brand awareness, interface creation and making it all look easy (when we all know it sure isn't). When she's not designing the heck out of everything, you will probably find her staring at her Pantone swatch book drinking an unnecessary amount of coffee.